Get your mind out of the gutter – WTF stands for What Tasty Food, and the two ladies behind this delicious website are cooking up a storm of dishes to combat the stereotypical college student's meal itinerary. Their website says it all: "Kelsey & Megan, two college roommates looking to survive the year on more than just ramen." – And boy, do they! Amongst my favorites are their Margarita Cupcakes and Vegan Pitas, but what really caught my eye was their latest post, featuring Japanese-Mexican Fusion Fish Tacos. Oh, yes.
For ingredient lists and step-by-step recipe instructions for both the guacamole and the fish tacos, click the image above or follow this link to the post. The mixture of traditional taco ingredients and unexpected Asian-influenced additions promises to expose your taste buds to something they've never experienced before. Mixing avocados, ginger, jalapenos and wasabi in one dish? Unheard of, yet somehow these ladies managed to pull it off.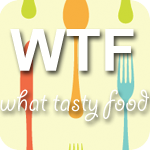 Visit the WTF: What Tasty Food homepage, and be sure to check out the blog's Facebook page, which is constantly updated with sneak peeks at upcoming posts. All you Twitter addicts can follow the site on their official Twitter page. – And as always, be sure to give them a 'thumbs up' on your StumbleUpon bar!
Follow, like, share, spread the love!